Gum disease can be easily overlooked, though it can cause bad breath, pain, and even lead to tooth loss.
Luckily, our dentists can detect and treat gum disease to reverse it or prevent any further damage.
Learn to spot the warning signs of gum disease and we can treat it at River City Dental in Chattanooga, TN.
Gum disease is the number one cause of tooth loss in adults. According to the CDC, periodontal disease affects more than 47% of adults aged 30 older.
The warning signs of periodontal disease can be hard to detect in the early stages. Some of the common symptoms include:
Red and tender gums
Swollen gums
Chronic bad breath
Loose teeth
Receding gumline
Bleeding gums, especially when brushing or flossing
Dental pain
Difficulty chewing or biting down
Let's Keep Your Gums and Teeth Healthy
Schedule a Consultation at River City Dentistry
If you have any symptoms of gum disease, visit us at River City Dentistry for a thorough consultation and exam. Our dentists use the latest technology and techniques to identify any issues with your oral health. If you're experiencing gum disease, we will walk you through the different treatments to keep your teeth healthy and help you return to daily life with a big smile.
Request a consultation today. Call our office in downtown Chattanooga, TN at:
Accommodating and Affordable Dental Work
From our office downtown Chattanooga, TN.
It's truly unbelievable to think that dental experience can be enjoyable, but remarkably Damien and his staff made it easy. From when you walk in the door to leaving you couldn't feel more comfortable, and you feel it's more of wellness visit than a normal mandatory visit. Compared to my last dentist I felt I was in a time warp with all of the use dated high tech dental equipment.
View on Google
Wonderful experiences all around! The team is super helpful and accommodating. I'm always treated kindly and promptly, no need to wait forever! Savannah is so friendly and helpful with paperwork and scheduling. Haley and Dr. Blaylock are always incredibly careful and patient. The office is clean and bright and the procedures are quite affordable. Highly recommend their services!
View on Google
Poor oral hygiene is the primary leading cause of gum disease, but other risk factors include:
Smoking and use of tobacco products
Taking certain medications
A weakened immune system
Family history of gum disease
Hormonal changes (i.e., pregnancy, menopause, etc.)
Age (higher risk for patients 40 and older)
If one or more of these risk factors apply, you should schedule an appointment with River City Dentistry. Our dentists use the latest technology and techniques to detect and treat periodontal disease.
Gingivitis
Gingivitis is a common but mild form of gum disease that involves red, swollen, or bleeding gums. Gingivitis may be treated with regular professional cleanings, dental checkups, brushing, and flossing. Many patients may experience little to no discomfort from gingivitis, which may lead them to believe it's harmless. However, leaving gingivitis untreated can lead to periodontitis, a more serious form of gum disease with lasting consequences.
Periodontitis
Periodontitis begins when bacteria deposit plaque below the gumline and release toxins in the area. The body responds, and the immune system attacks the area to get rid of the bacteria. The immune system destroys surrounding tissue in the process, leaving pockets in the gums that can become infected. As it progresses, the gums are pulled away from the teeth, which can weaken or loosen teeth to the point of falling out.
Nonsurgical Treatment for Periodontal Disease
Treating gum disease in its earliest stages can help prevent oral health conditions that range from bad breath to bone degeneration. At
River City Dentistry
, we perform minimally invasive periodontal therapy through scaling and root planing.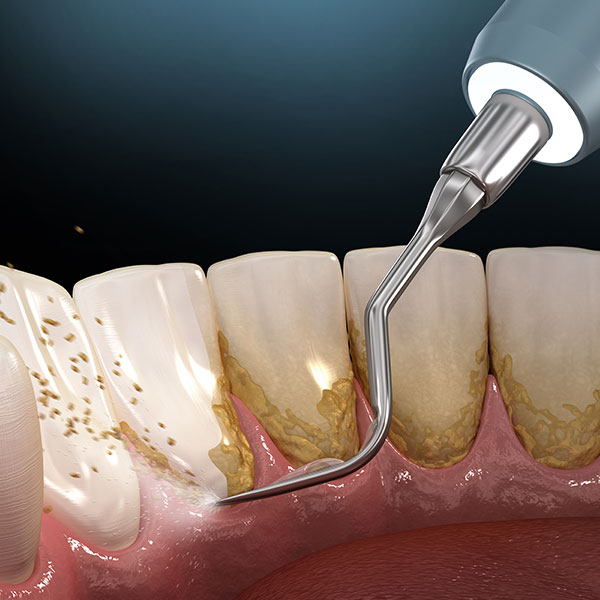 During this procedure, Dr. Armstrong will numb the gums and surrounding tissues with a topical or local anesthetic. If you need stronger sedation due to dental sensitivity, he can provide nitrous oxide or oral conscious sedation. Once you are comfortable, he will use a handheld scaling device or ultrasonic instrument to remove unhealthy bacteria from the base of the tooth and below the gumline.
Dr. Armstrong will then use a root planing handheld device to smooth the root surface of a tooth and eliminate pockets of inflammation and infection within the gum tissue. This step helps the gum tissue reattach to the base of the tooth to prevent food and bacteria from getting trapped. Once the procedure is completed, he may apply a topical antibiotic to treat any additional infection.
Surgical Treatments & Other Options
We Prioritize Your Oral Health
For patients who require more intensive treatment, such as gum grafting, we can refer you to a trusted oral surgeon in the Chattanooga area.
Our dentists will do everything they can to save a tooth, but in some cases, we must remove teeth to prevent further damage in the area. We will numb the area so you feel virtually no pain, and we also offer sedation. In most cases, we recommend a dental implant and crown to complete your dazzling new smile. Implants offer a host of benefits over traditional bridges, and we can complete all stages of the treatment in-office.
We Help You Relax During Treatments
Our Dentists Are Certified in Sedation Dentistry
We Help Our Chattanooga Patients Feel at Ease
And Guide Them Through Every Step
I just moved to Chattanooga and found Dr. Armstrong on a recommendation. First visit was great with great staff, friendly and professional. My second visit was more in depth and I was very nervous about some minor surgery that had to be performed! It was awesome! I was so nervous, but Dr. Armstrong, his assistant and Munford (office dog/pet) made me at feel ease and pain free throughout the entire procedure! I highly recommend Dr.Armstrong and his staff at River City Dentistry if you're looking for a dentist….10 out of 10 on all levels.
View on Google
If you are looking for a great dental practice in Chattanooga, look no further! I typically avoid the dentist because I hate it so much. I finally decided to go and decided to check out River City Dentistry. Their location on Cowart St. is beautiful, super clean, and easy to find. My dental hygienist, KJ, was stellar—probably my best dental cleaning experience in many years. I'm going to make sure I book with her each time. Dr. Armstrong is kind and knowledgeable. I feel very comfortable placing myself (and teeth) under the care of his practice.
View on Google